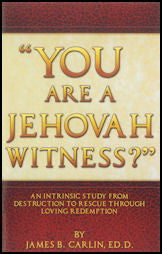 You Are a Jehovah Witness?
---
by James Carlin, ED.D.
This book is written for three primary reasons:
1. To bring honor and glory to The God of Glory - JESUS CHRIST
2. To provide an immediate guide for Christians who desire to equip themselves in their soul-winning efforts and daily Bible study activities. Questions of false teachings are raised. Scriptures follow which deal with such errors.
3. In a spirit of love, this volume is designed to aid dear people, who have had difficulty in their understanding of The Way of Salvation. It can be a mission opportunity, for pastors and churches, who desire to obtain a supply of these books, for visitation programs or to offer as a gift, to those who come to your door.
This small volume states 7 false doctrines which have misguided so many. Readers are given immediate answers from The Holy Bible which show clearly the errors and dangers of such teachings.
From the Author:
In First John chapter four verses 16-19, we read, "And we have known and believed the love that God hath to us. God is love;and he that dwelleth in love dwelleth in God, and God in him. Herein is our love made perfect, that we may have boldness in the day of judgment: because as He is, so are we in this world. There is no fear in love; but perfect love casteth out fear: because fear hath torment. He that feareth is not made perfect in love. We love HIM (Jesus), because He first loved us."
The Lord is not willing that any should perish, but He desires that all should come to HIM in repentance and faith for eternal salvation (2 Peter 3:9).
The Scriptures warn us to "believe not every spirit, but try the spirits whether they are of God: because many false prophets are gone out into the world. Hereby know ye the Spirit of God: Every spirit that confesseth that Jesus Christ is come in the flesh is of God: And every spirit that confesseth not that Jesus Christ is come in the flesh is not of God: and this is that spirit of antichrist, whereof ye have heard that it should come; and even now already is it in the world. We need help to learn The Word of God, more perfectly. Because greater is HE (Jesus Christ) that is in you, than he that is in the world." (1 John 4:1-4)
For these reasons, it is urgent to take and make every opportunity to win souls to The Lord God Jesus Christ. May every heart be warmly moved by the precious Holy Spirit as these eternal matters are studied.
28 page booklet
ISBN 9780866452410
Also available on Kindle - You Are a Jehovah Witness?
SKU:
---
Share this Product
---
More from this collection