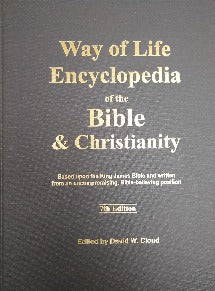 Way of Life Encyclopedia of the Bible and Christianity - 7th Edition
---
Edited by David Cloud
The 7th Edition
This lovely hard cover Bible Encyclopedia (7th edition - 718 pages) contains a massive amount of information. There are over 5,580 main entries, 6,234 cross references, and over 31,102 verse references.

Over 40 years of research have gone into this one-of-a-kind reference tool. It is the only Bible encyclopedia/dictionary that is written by a Fundamental Baptist and based strictly upon the King James Bible. It is a complete dictionary of biblical terminology and also features many other areas of research not often covered in Bible reference volumes.

Subjects include Bible versions, Denominations, Cults, Christian Movements, Typology, the Church, Social Issues and Practical Christian Living, Bible Prophecy, and Old English Terminology. The Christian will be helped and fortified in his faith through this Bible Encyclopedia.
SKU:
---
Share this Product
---
More from this collection