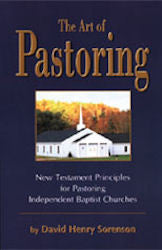 ---
Dr. Sorenson draws from from his father and grandfather over a century of experience in the ministry of Baptist churches. To that he adds more than 30 years of his own in the ministry. These many years have taught him the truth and power of a few simple, yet vital New Testament principles for pastoring.
The Art of Pastoring makes refreshing reading for the seasoned pastor, as well as inspiring instruction for the young pastor or ministerial student -- several Christian colleges even use it as a text book.
The Art of Pastoring recognizes the importance of preaching and church administration, but focuses instead on a frequent area of weakness, pastoring people. "Without a question, it is crucial for a pastor to be skilled in preaching and in the program management of a local church. However, if he does not pastor his people, his ministry will neither be happy nor long in one place."
"It is the goal of this book to share the principles contained in the Scripture which pertain to pastoring people."
Paperback; 227 pages
ISBN 9780971138438
SKU:
---
Share this Product
---
More from this collection