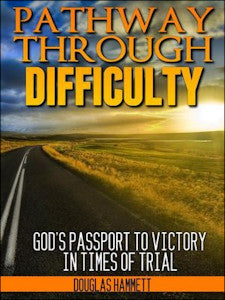 Pathway Through Difficulty
---
by Doug Hammett
Walk with me through Scriptures as we learn how to face our T.R.I.A.L. and go through it with P.R.A.I.S.E.
Have you noticed that many times in life we cross over into territory that we do not enjoy and in fact really do not want to walk through at all? I have taught the principles found in this book for many years in pulpits and applied the truths to multiple situations. But in each situation there is a special emphasis that the Lord has for our own lives. Without these truths, I would have been devastated and quite upset. But God's Word holds the key to finding victory in the midst of trials and difficulties of life.
This book lays out 2 major truths that have changed my attitude in the midst of discouragements. I have found these truths to be more than sufficient for the difficult issues of life. These truths also have been tested and tried by numbers of Christians that have applied them in their lives, only to find that God's Word is up to date and very powerful to meet the needs of our lives.
Paperback; 38 pages
SKU:
---
Share this Product
---
More from this collection