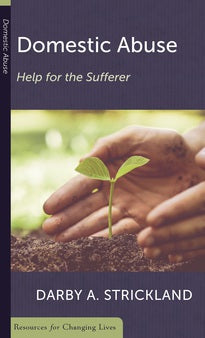 Domestic Abuse - Help for the Sufferer (Booklet)
---
By Darby Strickland
"Resources for Changing Lives" serise
What characterizes your marriage? Marriage is a place for sacrificial giving—so a spouse who uses it to gain power and control is violating God's design. If you are being oppressed, you are probably feeling isolated and alone . . . but you're not alone.
Scripture has much to say about your experience, your safety, and God's heart for you—he does not blame you for your suffering and does not tolerate oppression. In fact, he wants to rescue you.
Experienced family counselor Darby Strickland helps you to cut through confusion, speak out and find support, and then determine your next steps.
God knows the suffering and wounds of oppression, and he delights in redeeming and rescuing— especially his heartbroken children.
SKU:
---
Share this Product
---
More from this collection