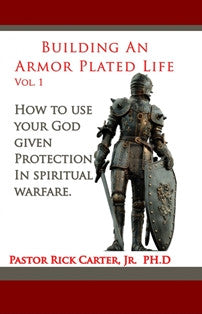 Building An Armor Plated Life (Vol. 1)
---
By Pastor Rick Carter, Jr. Ph.D.
Do you constantly feel defeated?  Have you almost given up hope of victory over the constant attacks of the Enemy?  You are not alone.  Many Christians are in the same place and the reason is that most have never been taught how to put on their spiritual armor.  Having protection is not the same as using it.  In volume 1 of Building an armor plated life you will learn who your enemy is and what he doesn't want you to know about his plan.  You will learn about many of his traps and how to avoid them.  you will also learn what the girdle of truth and the breastplate of righteousness are for, how to put them on and what they will do for you.
Victory is within your grasp as a believer and God has designed for you to live a victorious Christian life.  He has provided you with everything you need, but you must put your amor on to experience the joy God intended for you.
SKU:
---
Share this Product
---
More from this collection