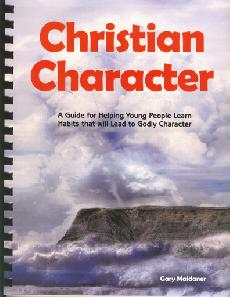 ---
By Gary Maldaner
CHRISTIAN CHARACTER is a book for boys and girls that provides an intensive examination of the character that should be found in the lives of Christian young people. CHRISTIAN CHARACTER is Scriptural, practical, and convicting; clearly examining the lives of young people who use the book, and then guiding them in setting short-term, specific goals. 
Recommended for ages 10-14. This text also provides an excellent guide for family devotions for younger children.
Character traits studied are:  Compassion, contentment, courage, decisiveness, dependability, determination, diligence, discernment, discretion, empathy, enthusiasm, faithfulness, generosity, gentleness, honesty, humility, initiative, integrity, joyfulness, loyalty, obedience, patience, purity, responsibility, reverence, self-control, tender-hearted, and thankfulness.  
An Answer Key is available here: Christian Character Answer Key
SKU:
---
Share this Product
---
More from this collection