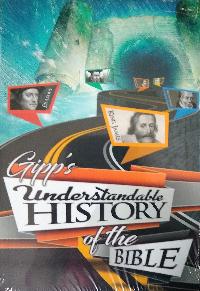 Gipp's Understandable History of the Bible (4th Edition)
---
By Samuel Gipp
The first edition of An Understandable History of the Bible has been used by Christians around the world. It has been a help to new Christians who want to learn more about where their Bible came from. It has been translated into several languages and has been found useful as a Bible college textbook in the United States and abroad. Many pastors used it for Sunday School classes.
The second edition enhances the former edition's usefulness with a wealth of added material.
Now the third edition adds still more information resulting in two new chapters plus new material inserted into already existing chapters.
This is the fourth edition of An Understandable History of the Bible due to the fact that when the third edition was first published the English Standard Version wasn't even on the radar. Therefore I have added information which proves that the ESV is pretty much just a New International Version with a different cover. Most of the corruptions of the NIV are carefully preserved in its twin brother, the ESV. Since it is the version being pushed as the "best" at the present, it merited a special examination.
The Modern English Version, on the other hand, caught some Bible believers off guard. Unlike most modern translations, it is not translated from the tainted manuscripts of the Alexandrian Text but rather claims to faithfully follow the Received Text of the King James Bible leading some to think, "It must be all right!" Actually, no. Sadly even though it uses the Textus Receptus it subjects it to the same corrupt mentality of Alexandria that produced the Alexandrian Text in the first place. Don't believe me? Check it out for yourself.
This edition now has about 50 pages of new information that documents the corruptions to both of these translations. 
SKU:
---
Share this Product
---
More from this collection